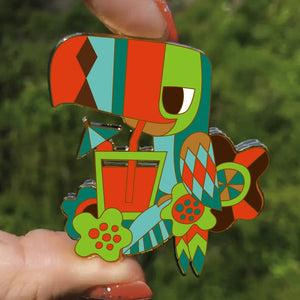 Tipsy Toucan Movable Pin

Tipsy takes a sip and gets a little...(drunk)sleepy.

When you pull Tipsy's tail, his eyes begin to close as his drink disappears.

I created him as a nod to the famous Mai Tai's at the Bali High Restaurant in San Diego. If you've ever had the pleasure of having one, you probably know what I'm talking about...you just may not remember anything else about your night...

Jeff Granito designs his art with vibrant saturated colors and a tropical tiki twist.