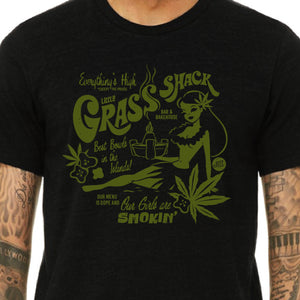 Little Grass Shack Tee
In stock, ready-to-ship.

Please take your measurements carefully as there will be no returns.

This tee fits true to size.

It's a great UNISEX shirt for both men and women. It's not too fitted for the guys and is an ideal balance of fashion and casual for ladies.

Tee Color: Black
Brand: Canvas
Fabric: 99% Ring-Spun cotton 1% Polyester

Size Chart in US Size Inches:

Recommended way to measure:

Grab your perfect tee from your closet.
Lay it on a table and measure.
Then compare to my measurements for a perfect fit!

Length Measurements

Small 28"
Medium 29"
Large 30"
XL 31"
2XL 32"
3XL 33"

Width Measurements

Small 18"
Medium 20"
Large 22"
XL 24"
2XL 26"
3XL 28"

Jeff Granito designs his art with vibrant saturated colors and a tropical tiki twist.