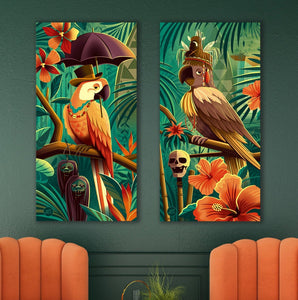 Set of Two Autographed Gallery Canvas Giclees
Head Salesman of the East AND Head Salesman of the West

Your expedition out East and across to the West has led you to two salesmen with real bird brains. You'll be offered the best deals in the jungle, two of his heads for yours!

Each giclee stands 24" tall by 12 "wide. They are wrapped around a wooden frame measuring 1 and 1/2 inches in depth.

This purchase includes Free Shipping (U.S. only) 

This is a custom order. Autographed by artist Jeff Granito. Please allow 4-5 weeks for shipping after you place an order.

Jeff Granito Designs his art with vibrant saturated colors and a tropical tiki twist.