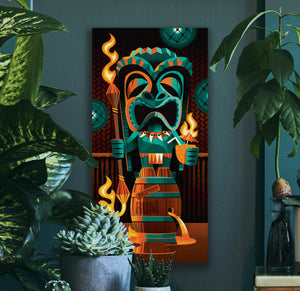 Over A Barrel Autographed Gallery Canvas Giclee

Is your room actually stretching? You and your guests may wonder if it is...or if it's just your imagination...

Giclee stands 24" tall by 12 "wide. It is wrapped around a wooden frame measuring 1 and 1/2 inches in depth.

This is a custom order. Autographed by artist Jeff Granito. Please allow 4-5 weeks for shipping after you place an order.

This purchase includes Free Shipping (U.S. only) 
Jeff Granito Designs his art with vibrant saturated colors and a tropical tiki twist.