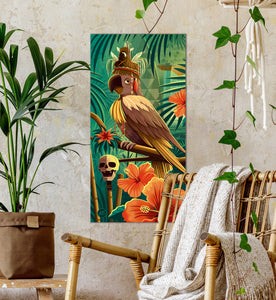 Head Salesman of the West Autographed Gallery Canvas Giclee
Your expedition out West has led you to a salesman with a real bird brain. You'll be offered the best deal in the jungle, two of his heads for yours!
Canvas Giclee stands 24" tall by 12 "wide. It is wrapped around a wooden frame measuring 1 and 1/2 inches in depth.
This is a custom order. Autographed by artist Jeff Granito. Please allow 4-5 weeks for shipping after you place an order.
This purchase includes Free Shipping (U.S. only) 
Jeff Granito Designs his art with vibrant saturated colors and a tropical tiki twist.