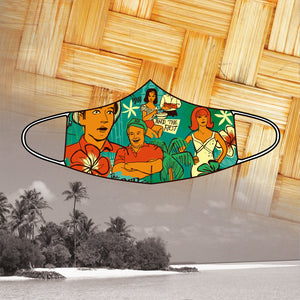 Three Hour Tour Face Mask

Wondering what to pack on your next trip to a deserted Island? Besides your favorite recipe for coconut cream pie, and a transistor radio, this 100% cotton Face Mask will keep you looking anything but shipwrecked!

Adult Size Face Mask OSFM (One Size Fits Most).

100 % Cotton

Elastic straps fit securely around ears. No nose wire. Straps are not adjustable.

Care: Machine Wash and lay flat to dry before and between uses.

These are not direct substitutes for N95, surgical, or procedural masks and are not FDA approved.

Jeff Granito designs his art with vibrant saturated colors and a tropical tiki twist.