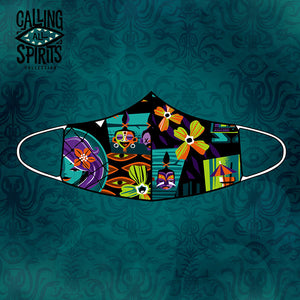 Calling All Spirits Face Mask

Which Spirit is going to follow you home when you're looking spooktacular in this haunted Aloha Face Mask?

Adult Size Face Mask OSFM (One Size Fits Most).

100 % Cotton with nose wire and adjustable straps.

Care: Machine Wash and lay flat to dry before and between uses.

These are not direct substitutes for N95, surgical, or procedural masks and are not FDA approved.

Jeff Granito designs his art with vibrant saturated colors and a tropical tiki twist.